Pepeaderos para la vida es un programa de la Fundación Omacha y Whitley Fund for Nature en el Amazonas colombiano cuyo objetivo es reforestar áreas degradadas en el bosque ribereño de los ríos Amazonas, Loretoyacu y el sitio Ramsar Lagos de Tarapoto.
Aprovecha las plántulas que de manera natural germinan cuando las aguas empiezan a descender, las cuales son recogidas por mujeres de los pueblos indígenas Ticuna, Cocama y Yagua. Ellas las cuidan y realizan la siembra posterior donde se requiere recuperar el bosque degradado.
También los visitantes a nuestra Estación Biológica en Puerto Nariño pueden sumarse a actividades de siembra durante su paso por Puerto Nariño.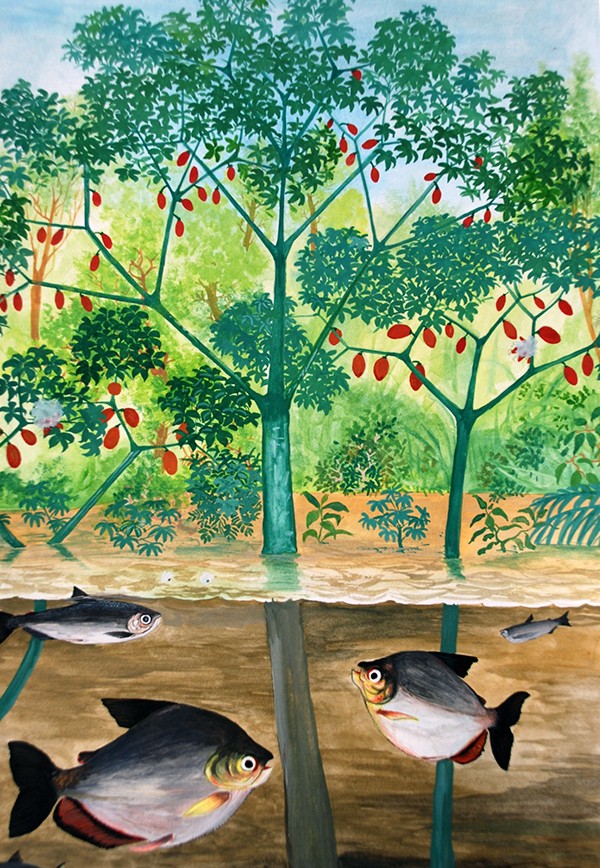 Seeds of life is a proyect developed by the Omacha Foundation and Whitley Fund for Nature in the Colombian Amazon. Its objective is to recover degraded areas in the flooded forest of the Amazon and Loretoyacu rivers, and the Ramsar Lagos de Tarapoto site.
It utilizes the seedlings that naturally germinate when the waters begin to descend, which are collected by women from the Ticuna, Cocama and Yagua indigenous peoples. They take care of them and then plant them where it is necessary to recover the degraded forest.
Visitors to our Biological Station in Puerto Nariño can also join planting activities during their passage through Puerto Nariño.
¿Qué son los pepeaderos?
Se llama pepeaderos al conjunto de árboles a las orillas de humedales y ríos que producen frutos, denominados coloquialmente "pepas", que al caer son alimento para innumerables especies de peces como: gamitanas, acarawuazus, pirañas, bagres y sardinas. Peces vitales para la seguridad alimentaria de las comunidades amazónicas y sustento de delfines, nutrias y caimanes que viven en estos humedales.
Estos peces cumplen también un papel de dispersión de bosques, pues al ingerir el fruto y solo consumir la parte carnosa, liberan las semillas aguas arriba y aguas abajo, contribuyendo a la arquitectura y diversidad de la selva.
Algunas especies típicas de los pepeaderos son: acaí, aguaje, reventillo, camu camu, murichí, capinurí y guayaba de monte.
The pepeaderos, where the seeds of life fall
"Pepeaderos" reffers to the set of trees on the banks of wetlands and rivers that produce seeds, colloquially called «pepas», which serve as food for countless species of fish such as gamitanas, acarawuazus, piranhas, catfish and sardines; when they fall to the waters.
These fish are part of the food security of the Amazonian communities and feed the dolphins, otters and alligators that live in these wetlands. These fish also contribute to the architecture and diversity of the jungle, because as they eat the fruits only consuming the fleshy part, they release the seeds upstream and downstream.
Pepeaderos are made by species like: acaí, aguaje, reventillo, camu camu, murichí, capinurí, guayaba de monte, etc.
Antecedentes y beneficios
Pepeaderos para la vida comenzó hace 8 años en el sitio Ramsar de Tarapoto. Han participado comunidades indígenas de Puerto Nariño, Fundación Omacha y Acción Verde (con esta organización se lograron siembras para mitigación de carbono para empresas como Ecopetrol).
Con plántulas de 57 especies diferentes fueron recuperadas 12 hectáreas de bosque inundado en el Lago Tarapoto y las comunidades de Villa Andrea, 20 de Julio y San Francisco. Esta iniciativa apoya los Acuerdos de Pesca de las comunidades indígenas y promueve la recuperación de las poblaciones de peces capturadas en los Lagos de Tarapoto.
Background and benefits
The Seeds of life program began 8 years ago at the Ramsar site in Tarapoto. Members of the indigenous communities, the Omacha Foundation and Green Action have participated.
With seedlings of 57 different species, we recovered 12 hectares of flooded forest in Lake Tarapoto, Villa Andrea and the communities 20 de Julio and San Francisco. This initiative supports the Fisheries Agreements of the indigenous communities and promotes the recovery of fish populations caught in the Tarapoto Lakes.
Relanzamiento de Pepeaderos para la vida
Ante la pérdida acelerada de bosque amazónico y la coyuntura de los incendios recientes en Brasil y Bolivia, te invitamos a ayudarnos a sembrar árboles en la cuenca Amazónica. Aporta para recuperar las tierras taladas o incendiadas de bosque húmedo tropical que los humanos hemos esquilmado por siglos.
Puedes donar en el siguiente enlace
Relaunch of Seeds of life
Due to the accelerated loss of the Amazon rainforest and the recent fires in Brazil and Bolivia, the Omacha Foundation invites all people to plant trees in the Amazon basin. The most effective way to contribute is to sow in order to recover the felled or burned lands of the tropical rainforest that humans have sheared for centuries.
You can donate at the following link
Tu donación será utilizado de la siguiente manera:
1. Aportando recursos a grupos de mujeres indígenas para liderar la siembra de árboles.
2. Adelantando campañas de recolección de plántulas del bosque inundado e instalando viveros.
3. Monitoreando las siembras y reemplazando los árboles que no hayan crecido debido a inundaciones atípicas, sequía extrema o enfermedades.
4. Realizando campañas educativas para estimular la siembra.
5. Fortaleciendo acuerdos y normas para el aprovechamiento sostenible del bosque en el sitio Ramsar de Tarapoto.
6. Mantenimiento de la Estación Biológica Omacha, donde actualmente hay un vivero y se coordina la iniciativa.
Your donation will be used as follows:
1. Providing resources to indigenous women's groups to lead tree planting.
2. Advancing seedling collection campaigns of the flooded forest and installing nurseries.
3. Monitoring plantings and replacing those trees that have failed to grow due to atypical floods, extreme drought or diseases.
4. Conducting educational campaigns to stimulate tree planting.
5. Strengthening agreements and norms for the sustainable use of the forest in the Ramsar site of Tarapoto.
6. Maintenance of the Omacha Biological Station, where there is currently a nursery and from where the entire initiative is coordinated.
Haz tu donación
Personas naturales: Aprendiz de Jardinero $100.000 COP / Jardinero $200.000 COP / Maestro Jardinero $300.000 COP
Empresas y organizaciones: escribe a nuestro correo contactenos@omacha.org con asunto Pepeaderos para la Vida y manifiesta tu deseo de ser financiador del programa. Puedes llamar también en Colombia al +57 1 2564682
Donate
People: Gardener's Apprentice $ 100,000 COP / Gardener $ 200,000 COP / Master Gardener $ 300,000 COP
Companies and organizations: write to our email contactenos@omacha.org with subject Pepeaderos para la Vida and express your desire to be a program's funder. You can also call in Colombia at +57 1 2564682
¡Dona, siembra semillas de vida y divulga!
Comparte el enlace de esta nota web con todas las personas que puedas, invitándolas a sumarse. Visítanos un día en Puerto Nariño, para que conozcas el sitio Ramsar de Tarapoto y sus hermosos lagos. Escríbenos a contactenos@omacha.org
Sigue nuestras redes sociales para ayudarnos a promover la campaña y estar pendiente de las actividades programadas. Publica una foto con tu certificado de donación y etiquétanos. Cuenta que tú siembras bosque y proteges el #Amazonas
Instagram y Twitter @fundacionomacha / Facebook @FundacionOmachaColombia
Donate, sow seeds of life and spread!
Share this web note's link with all the people you can, invite them to join. Visit us one day in Puerto Nariño, so that you get to know the Ramsar site of Tarapoto and its beautiful lakes. Write us at contactenos@omacha.org
Follow our social networks to help us promote the campaign and be aware of scheduled activities. You can upload a photo with your donation certificate by tagging us. Tell that you sow forest and protect the #Amazon
Instagram and Twitter @fundacionomacha / Facebook @FundacionOmachaColombia